Deep Fried Powder
Usage: For all deep fried items (coating of batter or breading)
Breading with a dry powder:
The food coat with an egg wash then coat with the powder before deep frying.
Breading with a moist batter:
Mixed 1 packet of crispy powder with 1 egg, 100g of water and 10g of oil, coat the food with the batter then deep fried.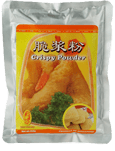 Used as dipping sauce and cooking sauce

Usage: Used as dipping sauce for poached seafood and
meat or used for cooking kangkong, cuttlefish and slice
meat.