Delivery Set Menu for all occasions
Travelling to dine in a restaurant takes time and effort.
Let us bring the food to your doorsteps.
We designed 2 set menus to help you save your time
and effort.
Delivery set menu is available everyday*, islandwide and delivery is subject to availibity of
delivery time slots.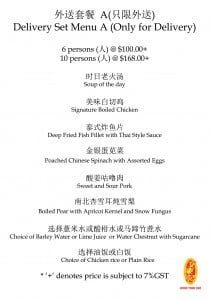 * Except for Lunar New Year Eve.
** Terms and Conditions
1. Every delivery is subject to $15 delivery charge.
2. Delivery time slot available 11.30am-2.30pm and 5.30pm-8.00pm. (+/- 30mins)
3. Payment mode is via Cash or Credit Card (VISA or Mastercard). A minimum of 24hours lead time is required for the delivery set menu.